1. Introduction
For family offices (FOs) around the world, circumstances have never been more exciting or dynamic. New family offices are being formed and younger generations are increasing their responsibilities in many established offices. Outlooks are shifting as well, as FOs have an increasing interest in direct investments, impact investing, ESG (environmental, social, and governance), and new asset classes coming online. They are also attune to the global mosaic of data regulation and data security. As FOs deploy new technological solutions to optimize their operations and communication, they require software that fulfills their needs.
Software facilitates family office operations by helping managers navigate the challenges they face. The functionality of software is crucial to its seamless adoption and ultimate effectiveness.  Ready access to the right information is key for family offices to successfully implement their strategies going forward.
The Simple 2021 software review is designed to guide family offices in their decision-making process. The diversity and range of organizations and structures creates distinct needs and family office technology providers design products to meet these specific requirements within this market. This reinforces the idea that the best technology solution is the product that best meets the unique demands of your FO today and in the future. The report puts users first by discussing use-cases that presented themselves in our research before delving into the software categories seeking to meet the needs of each segment.
This report also includes a discussion about the important issues around data jurisdiction and data regulation, as well as feature and interface localization with the goal of assisting family offices make informed decisions based on their needs. Software must meet the requirements of customers in different jurisdictions as security and privacy increases in importance.
If you are looking to make changes in your software stack or if you are upgrading operations as part of an intergenerational transition, we hope this review helps you better reflect upon the potential benefits that technology can bring. We also urge you to look beyond quick product demonstrations that walk you through key features and functionalities. Start with the needs of your family office, create a list of your operational requirements, and then look at what the market offers. It is important to consider the people standing behind the software you purchase to facilitate the onboarding process and provide continued support. Our service provider listings provide contact information for the people ready to assist you with evaluating software, making purchasing decisions, and follow through with ongoing collaborative relationships.
2. Use Cases
Family offices around the world span a range of organizational structures and have varying technological needs. We have identified six user archetypes to help reveal software use trends and to locate commonalities and distinctions between offices. Software developers focus on several niche markets to meet the needs of FOs. This report takes a needs-first approach to assist all the stakeholders to better understand their relationships. In the end, technological needs are unique to organizations and their operations, and are best illustrated through how software providers meet them. Remember, technology should work for you!
Startup Family Office
Newly established family offices have the freedom to create an agile organization at their point of origin. Today, many FOs are seen as a new beginning by their beneficial owners, possibly after successfully exiting a technology firm, a vantage point to the world and business that prioritizes innovative thinking. Many bring their drive for creative disruption to their startup FOs. This approach extends from organizational structure to setting investment priorities. These offices tend to favour impact investing, with a focus on social issues and environmental sustainability. The principal is often the beneficial owner who remains highly engaged and involved in the FOs strategies, activities, and closely involved in day-to-day operations. Startup FOs may be organized into an operational business with a small team around a chairperson. They could also include artistic and nonprofit activities alongside venture capital interests. The keyword here is synergy in investing and operations.
Startup FOs often draw from the agile thinking of the tech world in creating their own technology stack. The dynamism of startup FOs makes clear that their future needs remain unknown. They have become accustomed to changing products in their technology stacks. They value systems that provide them with open access to their data and that facilitate extending or changing solutions at a later date. For this reason they might be quicker to make an initial decision on off-the-shelf tools if it meets these requirements, while planning to further refine their tech stack in the future to create a data mesh and single source of truth.
Legacy Organizations
Many family offices have been fulfilling their mission with success and diligence for decades. One of their hallmarks is direct investing, but this type of FO may diverge on their desire for discretion in their investing, operations, and personal lives. The size and scale of operations vary greatly in this category, running the range from a modest SFO to a large corporate conglomerate controlled by the interests of a single family.
Operations are well-established and routine, but could use some modernization. Perhaps they're planning for a new generation to take the helm and have a desire to do things differently. Their technology use probably revolves around the broad use of Excel. If combined with a limited number of people with the crucial knowledge of the organization, it creates a major operational and key-person risk. The opportunity is ripe to update practices that are currently not best-in-class and onboarding FO technology products for the first time can advance their interests. Accountants or tax consultants likely take the lead in this exciting transition within a longstanding organization. Systemizing investment management in a portfolio management system can help reduce risks as the staff are forced to track, manage, and report in structures that can be transferred to others in the future.
Best in Class
An elite selection of FOs are leading the way in organizational efficiency, management structure, and reach. They are already making use of beneficial technologies to effectively manage their holdings and activities across a broad range of interests. Immediate business priorities often combine managing property and business ownership, the continuing investment of private capital, seeking venture capital opportunities, and social or artistic concerns. These activities are organized around a set of guiding principles that seek to generate clear social benefits from their activities. Across the board, they are civic and economic leaders through their practices.
Technological advancements create an opportunity for further operational refinement. Better data could be used to benchmark operations against other FOs more effectively. Technology is available to better structure and enhance collaboration in the organization. It can also display the breadth of the portfolio and generate reports to continue preserving the family legacy for future generations, while facilitating the desired social impact.
Single to Multifamily Office
It is often said that a successful single family office begets a multifamily office. Processes and motivations vary. Some families combine their resources under a shared vision to maximize their impact, while other families wish to avoid the startup phase by joining an efficiently managed family office. In both examples, joining forces brings together a wealth of knowledge. However, the expansion of a SFO into a MFO requires scaling up of operations and capacity.
Technology that worked for a SFO needs to be retuned and recalibrated to accommodate more partners with a broader range of interests and holdings. When families combine assets, it increases the potential for greater impact, but it also increases the number of stakeholders requiring timely information, accounting documents, and to include in decision making.
From Banker to Multifamily Office
A new MFO is commonly created when a person with years of experience in managing private wealth within a bank steps clear, by themselves or with similarly experienced colleagues, to establish an independent MFO. These experts sit at the top of the new private office's organizational structure and might focus on niche services drawn from identifying market opportunities from their prior positions. It is possible that they combine their primary offerings with additional management solutions such as legal counsel or other bespoke services, but essentially they create clear value for their clients by simplifying their lives.
The technological case for this type of MFO requires bringing together accounting and coordination across a range of services to a broad set of clients. Technology should encourage better service to clients, making effective customer relationship management (CRM) of the utmost importance.
Commercial Multifamily Office
Commercial MFOs have a clear business incentive to attract new clients. High staff to client ratios are the norm and the quality of service is personal and bespoke. They offer a comprehensive range of offerings that often target the lower-end of the ultra-wealth management segment. Some large MFOs continue to grow and others are acquired and merged with other MFOs.
Technology opportunities at the commercial MFOs include prioritizing CRM to maximize effectiveness of relationships and operations. The largest offices require technology to streamline interactions and improve accounting and reporting.
3. Software Categories
Software products for FOs broadly fall within the following six categories. While some overlap in functionality and services occurs, these divisions should prove useful to understand the breadth of available solutions and their target market segments.
Administrative Software for Family Members
Software that falls within this category is designed to facilitate communication, organization, and assets management in a secure digital application. They combine operational and management features by creating a central repository of information with collaborative decision making tools. Some products in this category create a traceable communication record through blockchain technology to permanently capture adviser and family knowledge. Other products create organograms to help users visualize their assets, while including a centralized document archive and task manager. All provide the ability to have contextualized conversations in a secure environment.
Wealth Management Platforms for SFOs
Software in this category consolidates and enriches information on complex assets in a single application. They combine the functions of portfolio administration to better facilitate risk management and reporting. Some of the providers in this category prioritize bespoke services and have their own backend developers on staff to see this through for clients with particularly complex needs. The key purpose of this software is seamless data integration to allow SFOs to concentrate on strategy and vision.
Administrative Service Software for SFOs
Administrative service software combines accounting, consolidated reporting, and asset aggregation into an readily understandable format. Services in this category tend to be bespoke and focus on a single portfolio. This provides for the inclusion of a more expansive range of assets away from market listed investing. For example, venture capital activities, private equity, capital calls, and even the active management of real estate investments and holdings can be brought within a single solution to maximize clarity for decision makers.
Wealth Management Platforms for MFOs and Advisors
This category of software separates itself from comparable applications designed for SFOs through the addition of CRM capabilities. They simultaneously consolidate information on complex assets and integrate contact information and interactions between manager and clients into a single solution. Approaches to CRM and other functionality vary, with some platforms providing seamless integration with other CRM providers and others including it natively within their platforms. Some providers choose to base their services in the cloud, while others prefer local storage.
Administrative Software for MFO
This category is populated by a small number of applications that provide the highest level of service integration including, but not limited to, accounting, operations, consolidated reporting, CRM, and payments. This could be built on a single platform or take the form of an integrated technology stack. Through automation and creating standardizing processes, these applications increase efficiency and the ability to manage risk.
Niche Products
Service providers are introducing innovative systems to the FO space that fall outside traditional capabilities. There is a focus on easing the burden of due diligence on funds, investments, or before a large private equity deal such as during a merger and acquisition transaction. Other niches include incorporating AI into FO software, enhancing the social efficiency of capital allocation, building out specific VC tools, or payment tools.
4. Investing Trends and Changes
The technology stack of forward-thinking FOs needs to keep pace with the latest investment trends.
The rise in direct investments is shifting allocations in ways that require new financial management practices. It places clear demands on investors to manage. Private equity investments may be accompanied by future capital calls that need to be tracked. Given the lack of trading on listed exchanges, valuation is more difficult to determine and requires flexible and novel solutions. Tools are needed to compile data on alternative investments strategies to help map possible approaches. A further challenge is that general partners report on different frequencies and formats, and the information is often locked into documents that need to be integrated. Recognizing that documents and information arrive from different sources, some solutions connect to email inboxes, social media feeds, or other information streams. Products that work within an extract, transform, and load (ETL) computing framework are needed to help compile this data. Software needs to facilitate the workflows of professional asset managers, including anything from charging fees to CRM.
As new asset classes come online, existing financial tools need to keep pace and accurately account for their value. Cryptocurrencies are the most talked-about new asset class that has gained traction in the mainstream investment world. As FOs include cryptocurrencies in their diverse portfolios, software needs to provide tools within existing software packages to account for its valuation. Other emerging asset classes are more difficult to treat like traditional assets and require new tools. Emissions trading systems (ETSs), vital for the world to meet the climate targets in the Paris Agreement, create carbon markets with exchange-listed futures to leverage market pressures on decision making about emissions. Carbon futures are both an important policy tool and a potentially lucrative investment option.
Another emerging asset class is developing out of recurring revenue and the underlying contracts in SaaS, telecommunications, and other business to consumer services. Companies looking to access capital without going through an equity round can leverage their existing revenue streams for growth. Buyers see attractive opportunities in revenue-generating assets that provide a hedge against bonds and equities.
There are also new asset classes being created in the real estate market. As Covid continues to shift work patterns, flexible offices and co-working spaces are attracting significant investment activity. Co-living spaces are also on the rise in many urban real estate markets globally and have characteristics distinct from traditional residential assets. Another novel asset class are data centres. The scale of their expansion and the world's reliance on their services provide a strong case for continued growth. The immense amount of affordable energy that needs to be colocated to power data centres creates an asset with unique characteristics.
5. Data and Localization
In a world of global connections, we are constantly reminded of the importance of place. Our locations greatly impacted our experiences over the last few years through the pandemic and the power of place also influences our technology uses and needs. Even the family offices with the most global of outlooks have clear local requirements when it comes to choosing software and financial services. This could mean a seemingly simple feature such as changing the language within the user interface, not to mention other matters more complex. Software developers build in varying degrees of customization and regional settings. Providing customers with their local language, characters, and numerical notation not only increases the tool's usability, but it increases trust, connection, and presence between provider and user. It addresses bedrock human factors in computing issues by accounting for socio-cultural aspects of use in software design.
Another issue is control over data storage, which could be motivated by FOs wishing to increase security after global media attention to data leaks and privacy. With the rise of cloud computing came the often-used expression: There isn't a cloud, it's just someone else's computer. Debates over the veracity of this claim hinged on discussions about the scripted integration making cloud services possible and the ultimate reality of sensitive personal data being stored on servers owned by companies, and not the end users. For our purposes, this discussion is a helpful reminder of the complex mosaic of legal requirements for data storage and financial regulation facing family offices. Does a server in the United States meet European General Data Protection Regulation (GDPR) or Swiss Financial Market Supervisory Authority (FINMA) requirements? A further related issue is whether or not the storage format is transportable to other layers of the software stack. These questions grow more complicated when clients and software providers are located in different data jurisdictions.
Data Independence
Data can often be difficult to export and convert to new software packages. The bespoke feature sets requested by customers contribute to this dilemma as much as data formatting decisions made by software developers. Additionally, the time invested in learning and then optimizing the effective and efficient use of complex pieces of software need to be factored into the decision-making calculus of all family offices. It is important to recognize the sum of these considerations as part of the sunk costs accrued over years of reliance on any piece of software. Family offices are invested in software in more ways than direct fees and there are clear switching barriers increasing the importance of finding the right software to drive decision making for years to come.
Data Regulation
The pace of recent technology development has strained attempts to create legal understandings of complex issues that cut across technology, legal, and political realms. Cloud-based software and storage have only increased this condition, especially when it comes to financial matters. The lack of global uniformity in regulatory approaches has created a patchwork of often competing laws at the national and supranational level. Here, some quick definitions are helpful.
Data regulation: Legal regimes affecting data. They can be country-specific like China's new Personal Information Protection Law, supranational such as Europe's General Data Protection Regulation (GDPR), or subnational like the US state of California's Consumer Privacy Act.
Data residency: The physical location of the services on which your data is stored.
Data sovereignty: The legal jurisdiction asserted over data.
Data localization: Legal requirements that data created within a given jurisdiction stay within that jurisdiction.
Data compliance: The practice of managing and organizing data to facilitate meeting legal and regulatory requirements.
Fortunately, the technology providers included in our review are invested in providing solutions that meet these complex and varied regulatory frameworks around the world. This comes as part of their focus on providing regionally and locally appropriate services, an approach that also runs through software design and functionality.
6. Provider Insights: Family Office Technology Industry Trends and Changes
The FO technology industry encompasses a breadth of products designed to meet the range of distinct client needs. The dominant trend is that more family offices are "adopting digital technology to improve their operations." One respondent to our survey noted that wealth has generally become more delicate, which requires multiple advisers to draw together a full picture of diversified holdings. Another respondent noted succinctly that they see "rising complexity" of the technology and operations of FOs.
This section of the review maps the trajectory of the industry and notes year-over-year changes from our last review.
The good news is that when asked "In which direction do you think the family office technology industry is headed?", the vast majority of our respondents see industry growth continuing in the future. About a quarter are seeing changes in their market, while, notably, none viewed the industry as shrinking. This is a strong indication of the overall health of the industry.
Changes in Family Offices
Changes within family offices are fueling optimism and industry growth. An increase in the total number of FOs, new members assuming decision-making roles in existing FOs, and UHNW individuals looking to manage their assets more effectively are driving the overall industry into the future. An outgrowth of generation shifts within many FOs is increased digitization and a willingness to invest in the right technological tools to bring value to their processes. One respondent wrote that "offices are trying to find ways and tools to process information more efficiently and accurately so they can spend more time on value-added tasks."
Digitization can improve communication within families by increasing the transparency of decision-making and archiving the collective knowledge of family members and advisors for future generations.
FOs are meeting their advisors with "more in-depth asset class knowledge" and are increasing their interest in direct investments and new asset classes. This includes a strong focus on ESG factors in their decisions and an increase in alternative investments. This is part of a general increase in FO attention to non-financial criteria in their strategies.
Broadening focus brings with it challenges compiling information to make informed decisions. FOs are looking for performance reporting and visibility of liquid allocations, as well as their overall cash flow, risk analysis, tax structuring, and future opportunities in one consolidated dashboard. They are also looking to automate their processes, including connections to third parties, to achieve this outcome.
Technological Changes to Meet FO Needs
The survey results illustrate that technological complexity is increasing along multiple axes. This is predominantly driven by growth in the number of new family offices adopting professional software that simplifies asset management. Our data noted that the move away from reliance on Excel is being led by "the current generation" that "wants to be technologically up to date" with the latest features such as "cloud services and apps." Increased software and data agglomeration intricacies, however, brings with it attention to transparency and the "growing expectation of better data management to drive decision-making."
Across the board, there is an increased demand in the speed that family offices require information. Creating simplified user interfaces for clients demanding more services from their software increases the capabilities and complexity of the software. This can be seen in the rise of process automation. FOs that operate in a multi-banking environment are pushing for services that simplify their processes and automation is central to that. FOs are also moving to do more with the data after it has been acquired and centralized in a single database. AI and machine learning algorithms can be deployed more effectively to guide family office operations and decision making.
To meet this demand, providers are investing in improving their data aggregation and portfolio management tools, including infrastructure to facilitate communication with the broader wealth management ecosystem. Providers are also making advancements in data aggregation and data insight capabilities that include PE-fund, unlisted securities, and alternative investments. They are also working to offer family offices software that provides more control and independence, with capabilities to serve as a platform to move ideas through to execution. Finally, attention to the UX is enhancing the ease of use of this broadening range of capabilities. Our data showed that improvements in software offers users a more complete picture of their assets.
Changes Among Providers
Most providers expanded their offerings, entered into new regions, and brought on new team members to accomplish these tasks. This data is in tune with the detailed qualitative responses that they offered for our questions about the shifting landscape of the FO technology industry.
Most providers saw strong growth last year. This can be seen in increasing team sizes, some by as much as 50% and others doubling their team year over year: "We doubled the size of our team to support greater-than-expected growth." Growth is also evidenced by a firm looking forward to a Series A capital raise as they look to capture more market share in their region of focus. Many firms are expanding their markets by moving in Europe, the UK, the Middle East, Singapore and throughout Asia, India, and the Americas: "We entered AsiaPac, and we introduced the industry's first portal for UHNWI wealth owners to have direct engagement and oversight of their wealth."
Connected to expanding market geographies is the need to scale for global compliance around GDPR, MIFID, FINSA, FINMA, CRS, and the many other data regulation frameworks, which requires additional staffing resources.
One firm expanded in "the fields of sales and marketing, support" and front-end web development. It combined this with improvements in cloud services, some manual operations, and the "development of voucher-based interfaces." While others expanded their services through strategic acquisitions.
Looking through the lens of one large leading firm provides a good overview of industry operations. Their in-house team of professionals, with deep domain knowledge and technical expertise, join with accountants and back-office processing staff to enable clients to scale their back-office operations with ease. This firm attracts new users through full-service monthly trials and fully-transparent pricing based on the number of investment entities. Their pricing model is scaled to allow seamless upgrading and downgrading based on user needs. It also offers a managed service–including strategic planning assistance, reporting, accounting, support for evaluating wealth managers, monthly insights into investment portfolios, and quarterly meetings for candid performance assessment. Additionally, it has curated comprehensive resources for insights and information needed to establish and run a modern family office. It has even partnered with educational institutions to establish a training program for accountants.
Another large firm is moving to become a "one-stop shop" for FO financial back-office needs. This includes: an expense management platform, account-receivable services, and accounts-payable features. The accounts-payable improvements are geared toward increasing client control over financial processes and strengthening approval policies in FOs.
Other changes include improvements to offerings in data aggregation and data management, aimed at increasing a front office capability to manage portfolios and Investment insights. Some firms are opening their APIs and their architecture to increase the functionality of downstream or upstream applications through seamless integration. Many providers are working to increase their products' ability to connect to other services, crucial to integrating data from external and internal data sources.
The tools that software providers are integrating their products with are as varied as client needs. They include DMS and CRM services, risk analysis tools, accounting and billing solutions, specialized asset class management tools for real estate or art objects, and the full stack of Microsoft applications.
Client Demands
The top demands of clients upon service providers are about data and security. Users require their data to be stored securely, often in their region or country of choice to meet security and governance requirements. Family offices also look for a broader set of features in the software they adopt.
To meet these demands, one service provider wrote: "we support mainly in the administrative areas and the booking area. Clients usually want workflow and task management. Individually tailored solutions are, for example, the customisable standard reporting." The company also offers its customers a cloud service and understands data protection as a "top priority" and a crucial part of "vendor due diligence." They are also taking cues from clients with distinctive requirements for their reports, asset structure, and risk framework. Another firm noted that "family offices have very varied requirements and depending on who is 'signing off' depends on what they focus on." Most firms highlight their ability to focus on tailoring solutions to meet the needs of their clients from increasing workflow features, digitizing more aspects of FO operations to data aggregation and specific data security requirements.
Providers are meeting client concerns over data security as they integrate their services with growing sources of data. However, one survey respondent noted that while clients appreciate bank integrations, banks are often still not able to accommodate external APIs for financial instrument transaction data.
On-boarding
"We do all the heavy lifting for our clients, so that they can focus on running their family office."
Software providers continue in their efforts to ease the burden of the on-boarding process.
Most providers streamline their onboarding processes, especially for new SFOs that require  highly tailored and bespoke work. They are creating scalable solutions that improve efficiency of this key part of the process. One respondent to our survey succinctly noted that their focus is "making it simple and easy for them." In many cases this came through remote services to meet Covid-related preferences and some firms have dedicated on-boarding managers with the expertise to guide new users. Other firms have 24/7 knowledge centres to assist clients.
Providers shifted their approach toward creating best practices solutions in their initial configuration for clients. One noted that "because our platform was so comprehensive, clients were occasionally overwhelmed with the number of options they had in on-boarding. Now for many of these configuration decisions we will recommend a best practice with the idea that if they do not like it after using the platform for several months we can reconfigure any part of the platform. This approach has been very positively received by clients and reduces the time it takes for on-boarding."
Another software provider is adapting their features to ease on-boarding: "We are adding more features to make it as digital as possible, including eSignature for letters of authorization to streamline the aggregation process. We are minimizing the steps required for users to enter their own information and build their own report structures." Another developed a "fully configurable client onboarding technology" that integrates with the "KYC/AML and DocuSign to make it fully digital.
One firm supports "the onboarding and data migration process with full bank and custodial-account transitions within days or weeks, depending on the complexity and quantity of data. The time we take for onboarding and migration is the shortest and easiest among our peers." The provider developed a "three-step process" that "drives certainty for clients in an average of 12 weeks from kick off to go-live. We guide our clients through full implementation reconciliation and training with our in-house and partner implementation teams."
Regionalisation
Two primary factors are drawn together in this key topic of interest among software providers and family offices: the control over the location of data storage and customizable software features that take into account regional and language differences.
A majority of firms have the capability to allow clients to determine the location and jurisdiction of their data. Others accommodate data jurisdiction and regulatory requirements in their choice of specific server locations. On the more flexible side, one provider responded: "being a Microsoft business, we can deploy in any Microsoft Azure datacentre, moreover, we can now deploy our family office solution to Microsoft Business Central public cloud."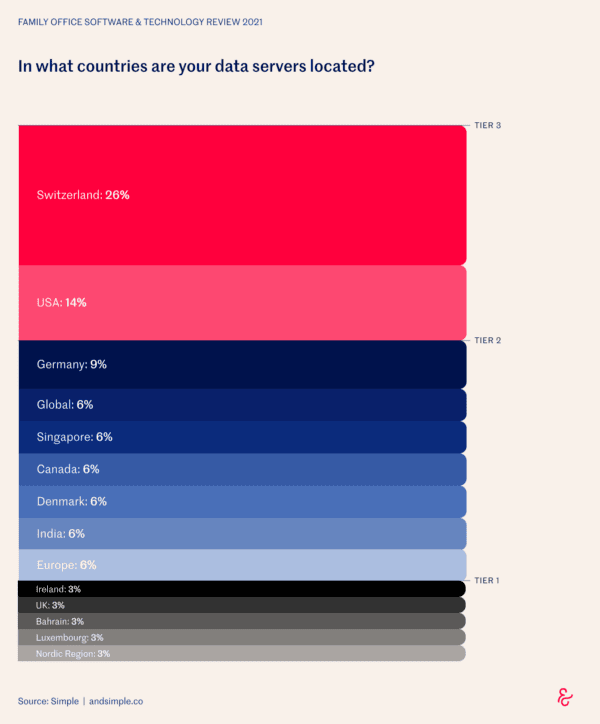 Most software providers are working to meet the needs of their global customer base by including adjustable language and regionalization settings, which ease use and build trust with clients.
Challenges Ahead?
Changes in FOs and software give rise to a primary concern over "identifying what system(s) truly can help family offices and wealth owners deliver meaningful innovation to drive better decision making." Connecting clients and providers with matching needs and capabilities remains a challenge. A connected insight came from a provider who noted that "embracing technology is a long term strategy. Not every technology is relevant and FOs may only realize this down the road." This brings into relief the need for research and trials to assist adopting the right technology meet the needs of each organization.
A trend arose of providers expressing that even with investment in technology, diverse holdings and more complex financial regulation will continue to make it difficult for families to get a complete picture of its wealth. On the investor side, this includes shifting portfolios to better prioritize ESG, impact investing, and moves into new asset classes. The regulatory side includes dealing with complex tax issues correctly and efficiently. Rising regulatory challenges test providers and clients as one respondent wrote that "compliance and disclosure" must be accomplished while "preserving security." Other respondents, however, expressed optimism that "capital owners will have a more holistic focus on their wealth and focus more on purpose and other 'non-financial' tasks."
Changes to FOs bring challenges as well. A well-placed respondent wrote that many family offices have operated "the same way for many years. If they want to become a family office of the future they will need new ways of handling the day-to-day operations." Another viewed expanding families and their different strategies as being a potential area to smooth operational decision making. Change management is crucial for FOs moving forward.
7. Top Family Office Software Providers
Here are the providers by region that have made this year's family office technology stack list:
U.S.A
Addepar: A wealth management platform that infuses transparency into complex financial information across functions and reporting, Addepar connects data, family office technology and people. The solution is designed to assist in achieving multi-generational family objectives by facilitating informed decisions through actionable insights and tailored reporting.
Asset Vantage: Based in Stamford, Connecticut and serving global single- and multi-family offices and CPA firms, Asset Vantage offers an intelligent family office technology platform that boasts integrated performance reporting and general ledger technology. It is designed to provide a consolidated view of the family office's entire net worth. Its functionality affords families comprehensive overviews and insights into their sophisticated wealth data.
Backstop Solutions: A US-based technology provider, delivers the infrastructure and investment platform family office CIOs need to achieve operational excellence and meet long-term objectives. By providing a central repository for all organizational, process, and investment data, Backstop supplies complete transparency and visibility anywhere and anytime, and ensures the continuity of institutional knowledge. Robust capabilities streamline portfolio, research, deal, and liquidity management.
Bill.com (NYSE: BILL): With headquarters in San Jose, California, Bill.com is a leading provider of cloud-based software that simplifies, digitizes and automates complex back-office financial operations for small and mid-size businesses (SMBs). They also offer a tailored product focussed explicitly on wealth management firms supporting high-net-worth clients. The solution enables firms to shift from a cumbersome and time-intensive approach to an automated and secure bill payment process and enables smoother operations.
Black Diamond: New York-based Black Diamond® offers a cloud-based wealth platform solution designed to meet the complex business needs of wealth management professionals and their clients. Their offering encompasses accounting, consolidated reporting, compliance (e.g., AML, KYC, regulatory reporting), portfolio management, trading (execution on the platform), trading (orders only), and data aggregation. In addition, the platform connects to a vast ecosystem of smart integrations with performance reporting, portfolio rebalancing, and an immersive client portal. Proactive, personalized attention from a dedicated service team ensures advisors receive access to an elite combination of family office technology and service.
Clarity AI:  Headquartered in New York, Clarity AI is a tech platform that leverages 65 data sources to provide social and environmental insights on over 30,000 companies in 200 countries. The cloud-based platform uses machine learning and artificial intelligence to provide both regulatory and client reporting. Their comprehensive tools help understand and optimize social and environmental impact, leveraging scientific research and the latest technologies. Recently Blackrock announced a minority investment into Clarity AI to bring their data into the Aladdin portfolio management platform.
Copia: Based in California, Copia offers a mobile-first financial intelligence platform designed to help wealth owners manage their own family offices. Copia was initially developed to cater to its founder's need for complete control and complexity management of his affairs. The solution's fresh take and modern design make it easy for wealth owners to self-manage their operations. It enables owners to track and document assets and investments to report on performance or cost and exercise better governance.
Eton Solutions: North Carolina-based Eton Solutions AtlasFive, a platform that was built by a family office for the family office market. It is currently the only fully integrated single source of truth platform in the UHNW market. Designed to solve the most common industry problems, inefficiency and lack of timely, accurate data, AtlasFive leverages technology and processes for efficient transaction processing, data collection and reporting. A fully integrated CRM, Document Management, Data Aggregation, General Ledger, Portfolio Reporting, Partnership and Trust Accounting, and payments engine, powered by risk-mitigating workflows and A.I., create a virtual family office generating daily reporting and insights not previously possible.
Fundcount: Boston-headquartered FundCount is a unified accounting and investment analysis solution that provides actionable intelligence to investment management professionals. Based on a general ledger, they started in the hedge fund space but today provide fund- and partnership accounting to a wide range of asset- and wealth professionals with offices in Europe, North America, Asia and Australia.
Masttro: Masttro connects the entire wealth management ecosystem, providing a single source of trusted information for family offices to rely on. With a real-time, customizable view of the complete balance sheet, Masttro gives family offices the information and unique insights they need to drive value and protect their total estate. The global platform provides financial data aggregation, advanced wealth reporting and analytics, estate mapping tools, contact and digital document management, integrated general ledger, secure communication portal, portfolio management, and the automation of family office operations – all protected by its advanced, military-grade security framework. Its intuitive interface makes the complex simple. Masttro serves clients across 24 countries with offices in Switzerland, the U.S., Mexico, and Chile.
Mirador: Operating out of Connecticut, Mirador's financial and technology experts team is dedicated to leveraging decades of industry experience to enable clients' success. Mirador's expert team leverages best-in-class technology for family offices to aggregate and organize assets and reconcile the data, allowing families to quickly grasp their complete financial picture and focus on making smarter financial decisions.
Nasdaq Asset Owners Solutions: New York-based Nasdaq offers Asset Owner Solutions. Their offering unites the most comprehensive institutional data from eVestment, with true multi-asset class portfolio analytics and services from Solovis to deliver transparency, insights and decision support for achieving investment objectives.
Northern Trust Family Office Technology: Headquartered in Chicago, Northern Trust is a global financial institution that provides asset servicing, investment management and wealth management services for institutions, high-net-worth individuals and families. Their Global Family Office (GFO) technology strategy includes Tax and Accounting, Performance, Data Visualizations, Partnership Accounting, and Integrated General Ledger functions. Their offering can be used as a full-suite solution or on an a-la-carte basis. In addition, their Wealth Passport portal provides the single entry point to the full suite of solutions that includes financial reporting and money movement capabilities across all Northern Trust products, as well as a full suite of data aggregation services.
PCR: Connecticut's PCR combines over two decades of experience with family office technology to help family offices achieve data independence by streamlining how their sensitive investment data is aggregated, managed, and used in reporting and other operations. Their secure global data-sharing platform is specifically designed to address the challenges of the family office. It offers automated solutions to the many complexities of family wealth management, including hard-to-aggregate illiquid investments, complex family ownership and simplifying how information is transferred to a families' reporting and accounting systems.
Private Wealth Systems: Private Wealth Systems operates out of North Carolina and provides the digital infrastructure that powers modern family offices worldwide. The unique way the software captures, corrects, calculates and presents actionable information across every asset class (public, private, non-financial) and currency enables the solution to support even the most complex nested ownership structures.
Ruby: The New York-based Accordia Group's RUBY platform levels the playing field by making big-firm technology affordable to family offices of all sizes. The solution solves the hugely expensive data integration problem experienced in investment management and tames the complexity inherent in reporting across asset classes, functions and geographies. It provides a customizable family office technology platform that enables business intelligence, risk management and diversification while saving clients time and money and allowing them to focus on strategy. Utilizing modern, cloud-native technology, RUBY ensures the faster servicing of business requests with reduced operational risk.
SEI – Archway Platform: With headquarters in Indiana, SEI's Archway Platform℠ and outsourced services streamline the accounting, investment data aggregation and reporting operations of family offices and financial institutions. SEI's platform is designed to help family offices and advisors to wealthy families better serve their ultra-high-net-worth clients. Their technology and high-touch outsourced services efficiently handle complex partnerships, portfolios, and corporate accounting alongside bill payment investment management and multi-asset class data aggregation.
Sopact: Californian Sopact is a technology-based social enterprise committed to helping organizations measure impact by directly involving their stakeholders. Their focus is on the social impact end of the spectrum within the sustainable investment space, which involves deep stakeholder listening. Sopact's solution aims to demonstrate and track impact to the last beneficiary, making it easier for users to manage the risk of adverse or unintended consequences and report on positive impacts that support behavioral change.
SS&C Private Capital Group: Headquartered in Connecticut, SS&C Private Capital Group eliminates the cost, risk and time of integrating disparate systems. Their family office software delivers fully-integrated multi-currency portfolio management, financial and partnership accounting solutions to single and multi-family offices to serve their complex needs. Their integrated platform and dedicated, seasoned support staff help to simplify the complexity of the family office.
Way2B1: With head office in California, Way2b1's mission is to enable high net worth individuals (HNW) and families to better manage their complex lives by providing a secure, private, and efficient operating environment that connects them with their ecosystem service providers and each other. Their systems help facilitate seamless decision-making, create institutional memory, and ensure information continuity across real-world domains. Dedicated resources are allocated to onboarding, and insights into building alignment among the family, the family office and the professionals involved in daily operations are shared throughout this process.
Europe
Altoo: Developed and hosted in Switzerland, Altoo prides itself on Swiss precision in intuitive wealth data aggregation and monitoring. Altoo's offering encompasses consolidated reporting, governance, data aggregation, risk management, document management, task management, and secure communication solutions that provide simplicity and control to private wealth owners and family offices.
Assetgrip: Netherlands-based Assetgrip's dedicated family office software provides an overview of all assets at a glance while also providing the insights required to make disciplined investment decisions. Built on a Microsoft stack and MS SQL server, the solution offers tight integrations into Excel. As a result, Assetgrip is ideally positioned for family offices that don't require integrations with custodians and value having a solution on-site that provides more structure in managing and capturing data.
Assure Wealth: Danish reporting provider Assure Wealth provides clients with a simple and understandable overview of total wealth, risks and returns. This solution offers reporting across all asset classes, allowing for comprehensive securities management. Innovative tools like "Wealth Navigator" provide portfolio benchmarking and access to fund fact sheets. In addition, the solution features a high-touch service that makes it ideal for Nordic wealth owners who want to hand over their consolidated reporting needs entirely.
Centtrip: Founded in 2013 and regulated by the Financial Conduct Authority (FCA) as an electronic money institution, Centtrip has offices in London and Amsterdam. Centtrip's solutions enable smoother back-office operations by streamlining bill-pay processes. This is achieved by providing multi-currency deposits, foreign exchange, payments and card services to organizations that manage multiple, internationally-mobile teams and assets. For family offices, assistance with yacht and charter management and private aviation may be of particular interest.
Coryx: German-based CORYX iO is an investment management platform tailored to the needs of single- and multi-family offices, asset and wealth managers, funds, foundations and banks. Covering all bankable and non-bankable assets for the family offices, CORYX provides comprehensive evaluation with a high level of individualization, risk monitoring, accurate accounting and corporate actions and a high degree of automation.
Elysys: Developed by the Monaco-based company that pioneered Microsoft's next-generation ERP applications in the financial services sector, Elysys is designed to serve global, mid-market treasury and investment management professionals working under several regulatory and compliance frameworks. It is a secure, cost-effective, scalable and integrated enterprise software for financial services organizations.
Escali: Escali is a Norwegian provider of software solutions to family offices, asset managers, pension funds and insurance companies. Escali Financials is a cloud-based solution that includes Portfolio Management, Risk Management, Treasury Management and Consolidated Reporting. The solution is integrated with more than 50 ERP systems and data providers such as Bloomberg, Refinitiv, Nordic Trustee and Infront. Their system uses automation to import market data and trades, while A.I. technology enables the reading and importing of contract notes.
Etops: Swiss-based Etops offers outsourced services for all back-and mid-office tasks. The combination of electronic interfaces based on a unique machine-learning parser technology developed by Etops, which reads and processes bank statements and booking confirmations, ensures a high proportion of custodian bank coverage.
This creates an ideal environment for Etops flexible multi-bank setups producing both printed and digital reports covering all types of bankable and non-bankable assets. Etops also offers fully fletched PMS/CRM solutions coping with all business and regulatory requirements.
Hemonto: Denmark-based Hemonto delivers state-of-the-art consolidated financial reporting with trusted data that forms the basis for financial decisions. A permanent team of experts supports their professional reporting platform to ensure data accuracy. As a result, services can be tailored to customized reporting needs without compromising data integrity.
IQEQ – Cosmos: Operating out of Luxembourg, IQ-EQ Cosmos provides an end-to-end bespoke portfolio monitoring solution to institutional and private wealth investors focusing on alternative and luxury assets. The solution combines one of the best-in-class accounting systems for closed-end funds or private assets (FIS Investran) and open-ended funds or public securities (Paxus) with leading online visualization technology. Furthermore, in-house development services can integrate this versatile and flexible solution with I.T. systems, data feeds, and open source feeds to create an entirely bespoke online dashboard according to the family office's needs and portfolios.
Lombard Odier Global Assets+: As an independent reporting advisor, Switzerland's Lombard Odier delivers state-of-the-art consolidated financial reporting with trusted data that forms the foundation of their client's financial decisions. Lombard Odier's Global Assets+ solution caters to professional investors, private clients or family offices and is supported by their operational capabilities, investment expertise, flexibility and cutting-edge multi-currency banking technology.
Orca: Developed in Switzerland, Orca offers a modern governance software that provides a secure, intuitive way to store and share sensitive financial information and reporting that facilitates productive discussions on wealth structuring, tax, compliance, succession planning, family reporting and more.
PandaConnect: Founded over two decades ago within one of Scandinavia's largest banks and now wholly independent, PandaConnect is a global full-scale investment administration solution servicing clients around the world. It covers all asset classes and bankable and non-bankable investments – helping family offices achieve the twin goals of wealth preservation and growth. In addition, the solution helps to solve client challenges with transparency and accuracy through complete data aggregation and consolidation across family members, banks, currencies, and managers.
PaxFamilia: Belgium's PaxFamilia helps patrimonial advisors to serve their clients with a holistic and structured approach to their global wealth. Professionals can work and collaborate more efficiently due to the aggregation of the family office's global wealth in one secured platform. Family office clients can then connect to the platform and access a clear overview of their wealth.
QPLIX GmbH: Based in Germany, QPLIX offers an all-in-one next-generation SaaS solution for family and investment offices, banks, wealth and asset managers. Their wealth management software provides solutions across various accounting, consolidated reporting, governance, compliance, risk and portfolio management, trading (orders only), data aggregation and Impact/ESG reporting. The solution is engineered to handle the full range of asset classes and complex legal entity structures. Furthermore, it optimally supports all internal and external roles involved in asset management to deliver precise results in a challenging and ever-changing environment.
Quantilia: A French fintech and portfolio monitoring platform dedicated to family offices, Quantilia offers a turnkey solution for asset consolidation, data collection, cross-asset portfolio analysis and document generation. While they have a strong focus on SFOs, they also cover Private Banks, Institutional Investors, Asset Managers and Investment Consultants. Besides their portfolio monitoring platform, data services, legal and ESG reporting, and quantitative analysis make their services list.
Sharpfin: Swedish provider, Sharpfin, consolidates both allocation and performance for clients with holdings distributed across various custodians. Services also include the management and reporting of unlisted securities to provide detailed reports supporting risk control. The Sharpfin Portfolio Management System reduces manual labor to a minimum and works for family offices, fund administrators, fund distributors and transfer agents.
Swimbird: With their head office in Sweden, Swimbird's Platform, SWIP, is a modern portfolio management solution that offers clients a centralized, holistic view of their total portfolio. The platform provides real-time aggregation and visualization of portfolio data (assets and liabilities), irrespective of format and data source. It also handles all geographies and instrument types; financial instruments (listed and OTC), private equity and alternative investments. The solution is built on best-of-breed family office technology, can be tailored for individual businesses and continuously evolves to keep up with future demands.
Tindeco: Tindeco's VISION provides the ultimate platform to manage any investment portfolio efficiently. The Swiss company offers portfolio and risk management, compliance, data aggregation, CRM, consolidated reporting and trading (orders only) solutions. In addition, it provides flexible, interactive performance and risk analytics that help family offices to develop essential insights. VISION can be implemented on-site or in the Cloud and automate systematic workflows.
WealthArc: Using automation and smart data consolidation technology, Swiss Wealth Arc developed a way to increase efficiency for wealth management professionals by drastically reducing the time needed to complete data consolidation, reporting, compliance and other administrative tasks. Their easy-to-use and affordable wealth management platform does not require installation or a long, costly set-up. WealthArc uses a robust API engine to fully automate, consolidate and unify data from various custodian banks. It is accessible anywhere anytime and from any device with Internet access, allowing wealth managers to focus on growing their business.
WIZE by TeamWork: This Swiss, all-in-one Wealth & Asset Management solution offers an integrated data aggregation, CRM, accounting, amongst other services and including 180+ custodian automatic feeds for multi-asset, consolidated reporting. WIZE by TeamWork focuses on providing an intuitive user experience, rich and performing functionalities, and a transparent pricing model.
Asia-Pacific
Canopy: Singapore-based Canopy is a private and anonymous wealth account aggregation, portfolio analytics and client reporting platform for high net-worth individuals and their wealth managers. Offering a turnkey service and full customization, family offices submit their data, and Canopy does the rest. The service covers all asset classes in all markets and any currency with reporting in the format of the family office's choice.
Hatcher+: A Singapore-based venture-as-a-service company, Hatcher+ leverages deep learning, process automation, and global partnerships to enable scalable portfolios and index-style investor returns. Its focus on high-volume venture investments required a technology platform to enable their success, so VAAST was created. This multi-award-winning, next-generation, venture-as-a-service technology solution provides predictive analytics, impact scoring, and business process automation. In addition, family offices can use the platform to create multi-level deal origination partnerships and access thousands of deals.
Valuefy: India's Valuefy offers a digital platform that features accounting, consolidated reporting, CRM, compliance, portfolio and risk management, trading (execution on the platform) and data aggregation solutions. The solution's secure, robust full suite enables families to execute performance analytics, create and benchmark complex model portfolios, compare advisors, and manage rule-based investment mandates and restrictions. Secure communication with other users and advisors and the ability to design and manage flexible account structures with the flexibility to slice and dice family investments are also possible.
These providers offer the world's best, specifically tailored services for family offices considering new solutions or additions to existing technology stacks either now or in the future.
8. Methodological note
Choosing the right software that works seamlessly within a technology stack is one of the most important decisions a family office can make to maximize their efficiency, impact, and productivity. At Simple, we believe that the best software is a matter of fit and decisions should be based on facts and evidence.
The findings presented in this report are the result of deploying a grounded theory methodology, where we identified key themes that emerged in the data to conduct further in-depth research through interviews and desktop research. We designed and deployed a new standardized survey to generate comparative data on key parameters for users and providers. To go deeper, we conducted semi-structured interviews and documented informal conversations over the past year with users and providers to continue to bridge the gap in terminology and perspectives that we documented in our 2020 software review. Interviews with family office technology providers and family wealth professionals provided much nuance to our survey data through qualitative data analysis techniques.
In sum, our goal in this review is to let the data speak. Asking open-ended questions and following through by investigating the responses uncovered new insights in the ever-changing world of family office technology.