Over the summer, the Swiss stock exchange released important news, which may also interest Swiss family offices and family businesses. The Swiss stock exchange, SIX, has launched a new segment that could make going public more attractive to SMEs. The question also arises as to what this means for family businesses. On the one hand, the new segment could be an incentive for family businesses or parts of them to go public. On the other hand, it may create further investment opportunities for family businesses and family offices.
Let's take a closer look
Early in July 2021, the Swiss stock exchange SIX announced that – subject to regulatory approval – it will launch a new equity segment called Sparks, which is dedicated to small and medium-sized enterprises. The new segment aims to attract companies with a lower market capitalisation to the stock exchange, meaning that on the day of the listing, they must have a market capitalisation of less than CHF 500-million. Further, fewer requirements for free float, equity and financial track records are intended to lower the entry thresholds for a stock exchange listing. Contrary to the main market a minimum trading activity will not be ensured by a percentage free-float (20% with a capitalisation of at least CHF 25-million), but by a shareholder base of more than 50 investors. Additionally:
The equity capital required amounts to CHF 12-million whereas the main segment requires an equity capital of CHF 25-million in future. The capital must be increased by more than CHF 8-million as part of the IPO unless the equity capital is already higher than CHF 25-million.
The companies must have a two-year financial track record instead of three.
Shares will be traded at Sparks in a condensed trading window from 3 p.m. to 5.20 p.m.
Sparks-listed companies can request a transfer to the main SIX market after a certain period. They must transfer to the main market if their average market capitalisation exceeds CHF 1-billion over a period of 12 months.
What could this mean for Swiss family offices?
For family offices, the introduction of Sparks offers the occasion to analyze the portfolio of their families. If a family has a broadly diversified firm, Sparks might be the right place for a division to go public and therewith gain more family attention, higher growth and international credibility. At the same time, Sparks might offer new investment opportunities where family offices can invest in other family firms.
SIX was formed in 1995 and is today, with a free-float market capitalisation of EUR 1,076 billion, the fourth-largest stock exchange in Europe and belongs to the twenty largest stock exchanges in the world. The approximately 260 listed companies include global corporations such as Nestlé, Novartis and Roche. With Sparks, SIX offers its services expressly to SMEs and thus structures its segments more clearly. It also addresses the trend that IPOs have been declining in recent years. The chart below shows the number of IPOs at SIX from 2000-2020.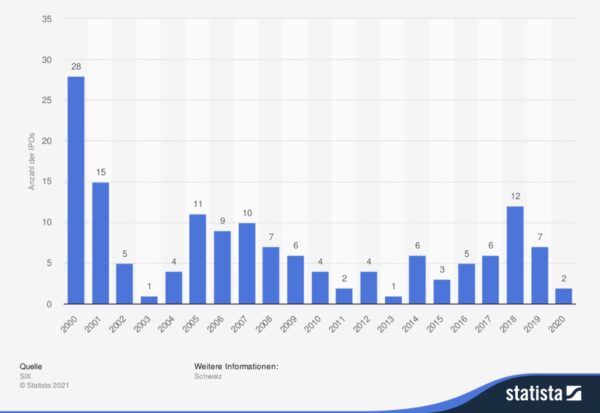 This negative trend can be observed throughout Europe. Whereas in 2000 the number of IPOs was 597, there were only 160 in 2019. Interestingly, the Nordic countries have represented an increasing share of Europe's IPOs. This chart shows that around one-third of all European IPOs have been Nordic over the past years. Stockholm has been one of the cities with the highest number of IPOs.
In his paper "Attractiveness factors of trading venues for IPOs of micro-, small- and mid-caps – a comparison between Sweden and Switzerland" Christoph Vontobel elaborates on the decision criteria for the choice of an exchange location and compares Switzerland to Sweden. He explains that companies have a home bias when deciding on a trading venue and that apart from that, the sector expertise and the trading liquidity of a trading venue are the decisive factors. So, in the life-science sector, SIX is the leading marketplace in Europe, whereas, in Sweden, there is a specialization in the areas of communication technology and healthcare.
In the end, the trading venue where the highest investor demand is expected and, accordingly, the highest valuation can be achieved, will be chosen. Vontobel shows that if we look at the last ten years, Switzerland has recorded more IPOs in the large-cap segment. On the other hand, IPOs in the micro and small-cap segment are almost non-existent compared to Sweden. He investigates the demand of institutional and private investors and shows that in Sweden the demand for private investors was accelerated by various government measures. Government measures providing tax relief on equity savings have created a strong equity culture and demand among private investors. With the marketplace First North, the Nasdaq Stockholm provided a trading venue for small and fast-growing companies that was able to meet the demand of the investors. He concludes that to strengthen Switzerland as a stock exchange centre, a dedicated trading venue for smaller companies is to be established. He proposes several measures to support this marketplace:
Incentives for private investors (preferential tax treatment for equity savings plans or choices in retirement provisions)
Reduced listing and maintenance requirements
Attractive offering package for issuers
Ensuring issuer quality
Niche providers accompanying smaller IPOs
Clear separation of branding.
Some of these conditions can be created by the stock exchange itself, others must be established by the state or private parties. SIX followed the call and created Sparks as a segment dedicated to SME. Now it is a chicken and egg question: Does the fact that the ecosystem is not yet in place lead to failure, or is Sparks able to create the ecosystem that will help it succeed?