ClearMacro
ClearMacro acts as a "CIO co-pilot" for family offices driving better investment outcomes and clearer communications with stakeholders. Our lightweight, SaaS-based platform empowers family offices to integrate AI and data-derived insights and Asset Allocation into their portfolios for smarter decision-making.
For Single Family Offices: ClearMacro enables SFOs to leapfrog a generation in building institutional-grade investment capabilities (especially for multi-asset portfolios across public markets) and can materially improve the cost-benefit relative to being serviced by a private bank.
For Multi Family Offices: ClearMacro underpins scalability and value-cost propositions, including an enhanced ability to drive actively managed portfolios of passives, which helps retain existing end-clients and attract new ones.
Many family offices employ only bottom-up investment selection (funds or directs) and do not have any asset allocation process in place, thus ignoring the most important driver of portfolio returns. And, if they do apply top-down Asset Allocation techniques, they tend to use sub-optimal (backward-looking) assumptions which lead to sub-optimal outcomes for them.
Markets are generally forward-looking hence the ClearMacro platform offers a forward-looking co-pilot solution that provides real-time investment guidance. This structured framework reduces cognitive bias and helps outline optimal actions (and the supporting rationale) to consider taking across asset classes and markets.
This sophisticated but user-friendly product was born from solving problems at large and sophisticated multi-asset institutions. Developed and evolved over 9 years by a team of institutional investors, ClearMacro has accumulated data and technology that most family offices or even investment strategy teams, under continued short-term delivery cycles and finite budgets, can rarely match (and at typically only 10% of in-house costs).
The platform integrates public and private datasets, a range of quant and AI techniques to integrate perspectives over a range of investment horizons. It supports asset allocation across multiple asset classes, geographies, and horizons, and is expanding to include real and alternative assets. ClearMacro acts as a comprehensive investment decision support tool, offering tailored outputs and interfaces, including dashboards and APIs, to suit different user needs.
Proven family office benefits include a more consistent and richer investment decision-making framework which is real-time and can cover a broader opportunity set, leading to:
improved investment performance
lowered costs
more consistent decision-making framework
enhanced team credibility
reduced key person risk
What sets ClearMacro apart? Forward-looking, real-time actionable insights which integrate short- and longer-term considerations.
"We are passionate about democratizing investment decision power and shifting benefits to the ultimate owner. We leverage technology to drive better investment experiences and outcomes at lower cost."
Niall Boland
Product
Get an overview of what ClearMacro does.
Main Tasks
Risk management
Data aggregation
Portfolio management
Investment technology
Performance and decision-making audit trails
Consulting on investment processes
Introductions to investment solutions providers.
Top features
Portfolio construction idea generation & optimisation
Performance testing
Tactical view build and reconciliation to strategic asset allocation
Investment strategy communication tools and audit
Visionary purpose
Transparency
Ability to white label
Full multi-currency support
Assets supported
Cash & Equivalents
Equities
Developed Markets
Fixed Income
Integrations
APIs allowing quant-capable clients to directly integrate the platform into their own processes available
SAML based SSO is available for larger deployments
Type of data
Holding level
Accuracy
ClerMacro ingests data from a range of external sources and performs a range of operations to ensure the data is fit-for-purpose. Once they convert the data to signals and model outputs, they comprehensively backtest.
Multi-currency
Users can set multiple base currencies.
Audited by
Blick Rothenberg (Accounting)
Passed a technology audit (CGI) and investment framework audit (KPMG) in relation to a capital investment due diligence process.
Cost structure
AUM based
Data based (per data feed integrated)
Deat based (per named user)
Average cost p.a.
Typically, for a mid-sized Family Office: 25-30K$ in year 1.40K$ p.a. thereafter.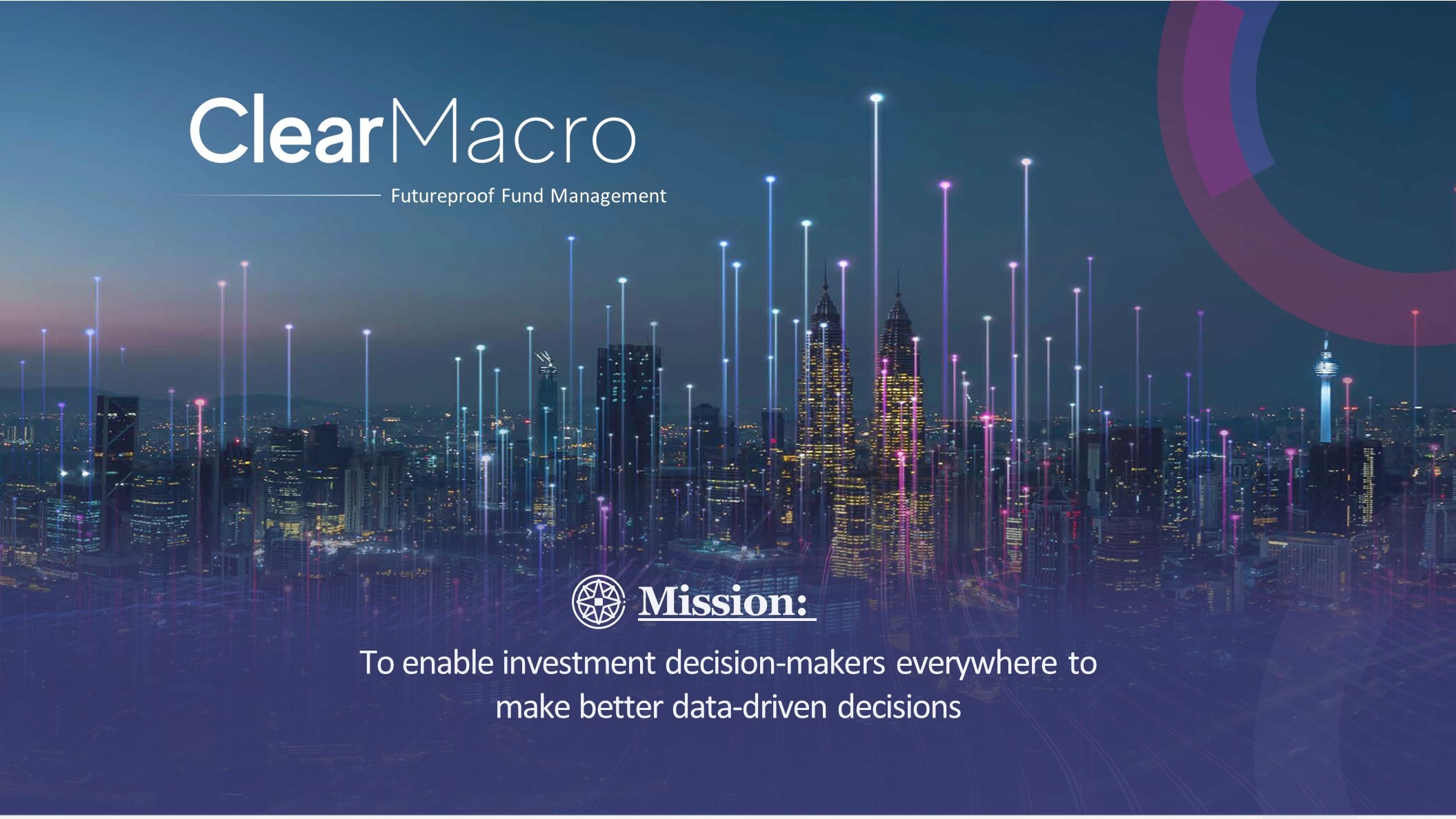 Key Company Information
Have a look at the company, clients, and references to learn whether this is a match for you.
Ownership
External investors
Key staff also have ownership
Clients are also owners
Top markets
United Kingdom
Japan
Singapore
United States of America
Canada
Total AUM
Client firms have AUM >$300 billion
Secondary focus
Individual wealth owners
Single family offices
Multi-family offices
Investment & Financial Advisors (RIAs/IFAs)
Fund managers
Banks
Pensions
Endowments
Foundations
Funds of funds
Number
3 Pension Funds
2 Hedge funds
2 Wealth Management firms
2 FOs
Note: ClearMacro re-commercialised in 2023 after completing a 2-year infrastructure upgrade in agreement with an anchor investor.
Given the sensitive nature of what ClearMacro does for clients (i.e. going right to the core of their value proposition), their permission in required. Their clients will generally operate on a "need-to-know" basis.
Request references
What do clients say about ClearMacro?
ClearMacro's expertise and data-driven Asset Allocation support platform looks like a game-changer for Family Offices and Wealth Managers - the prospect of improved investment performance (at lower cost) and better transparency can really drive client trust and portfolio performance and ultimately the growth of our business."
Alex Ingrim, Head of Investment Team, Chase Buchanan
Support & Services
Learn what support and services you can expect
Added Services
Software develoopment
Support options
Dedicated contact
In person on site support
Pricing of support
On use basis
Free support
Onboarding
Sophisticated multi-family office 6 weeks.
Sophisticated hedge fund 2 weeks.
Unsophisticated SFO or WM - 3-6 months; but more about training on investment processes than on the software.
In reality, depends on use case and existing capabilities.
Customisation
Most layers of the platform can be customised - but we are most commonly asked to customise the top layer - the user interfaces (e.g. dashboards)
Bespoke development
The lighter-bespoke development example would be the remapping of our aggregation techniques to more closely follow the structure of the client's particular investment universe and structure.
A heavier-duty bespoke development example would be the development of a Counterparty Risk Assessment tool (repointing our forward-looking drivers at a somewhat different/adjacent problem which a client had).
Simple solutions for complex times.