Global Asset+ by Lombard Odier
As an independent reporting advisor, we deliver state-of-the-art consolidated financial reporting with data you can trust as a strong basis for your financial decisions. Our Global Assets+ solution, catered to professional investors, private clients or family offices, is underpinned by a unique combination of operational capabilities, investment expertise, flexibility and cutting-edge multi-currency banking technology, designed and developed by Lombard Odier.
What sets Lombard Odier apart?
"At a time when many are opting for industrialised and standardised solutions, we believe in personal relationships and bespoke services that meet clients' expectations."
Fabrice Leone
Product
Get an overview of what this software does.
Main tasks
Accounting
Consolidated reporting
Portfolio management
Trading (execution on platform)
Data aggregation
Risk management
Impact/ESG reporting
Top features
Dynamic analysis, easy access to financial data
Execution monitoring
Instant consolidation of a large number of portfolios/investments
Historical performance, allocation, and portfolio exposure trends
Detailed performance contribution/attribution across asset classes, countries and currencies breakdowns
Fund look through
Bespoke costs monitoring
Ex-post and ex-ante risk metrics
Dedicated investment guidelines monitoring
Powerful reporting solutions to create personalized reports
Assets supported
Bankable assets
Private equity
Real estate
Rare collectibles (e.g. luxury cars, boats, high-value jewelry)
Compliance
MiFID II
GDPR
FinSA/FinIA
AIFMD
UCITS
Security
Regulated by the Swiss Financial Market Supervisory Authority (FINMA)
Experts leverage both inside the organisation and through networks of subject matter experts
ISAE 3000 Report on Client Data Security Controls (Type II) on a yearly basis
Accuracy
The integration of data from external sources starts with reconciliation, which identifies any difference of quantities and valuation of investments, as well as upstream movements that we will receive from these external sources. Our reconciliation system bridges the differences to arrive at nil at the end of the process for a specific date.
Depending on the level of service chosen by the customer, we can also enrich certain movements with additional information such as the nature of a cash movement (e.g. withdrawal, fees or tax) or the nature of a private equity related distribution (e.g. return of capital, capital gain, dividend, etc.).
Multi-currency
Users can set multiple base currencies
Users can separate holding level gain/loss from currency gain/loss
Based on holding/position data
Based on transaction data
Cost structure
AUM based
Custodian use based (per connected custodian)
Feature based
Flat fee
Average cost p.a.
For a $100 million client, the yearly cost is around 10-12bp. This includes: banking services, asset aggregation for 2-3 banks, up to 10 non-financial investments, on-line wealth software as well as a monthly personalized reporting.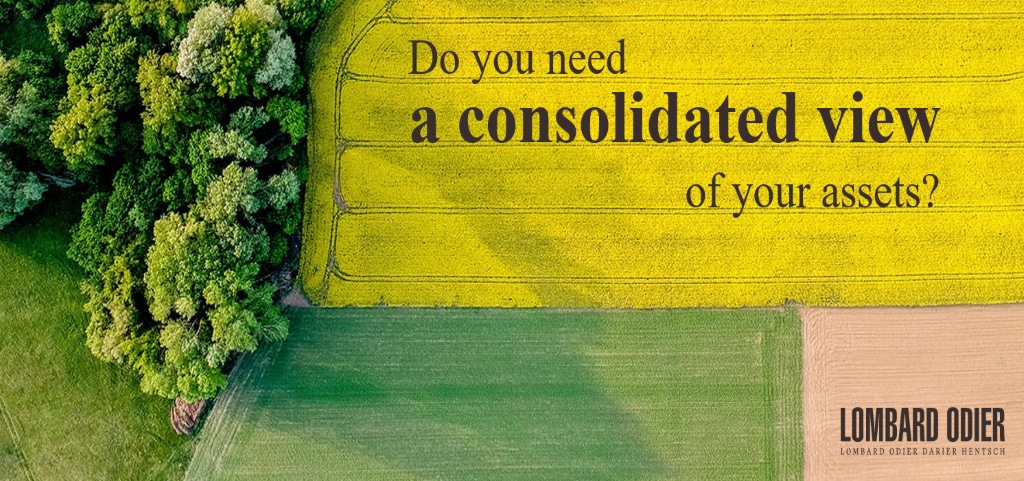 Key Company Info
Have a look at the company, clients and references to learn whether this is a match for you.
Locations
Geneva
Zurich
Brussels
London
Luxembourg
Paris
Madrid
Dubai
Abu-Dhabi
Hong-Kong
Singapore
Tokyo
Bermuda
Nassau
Top 5 Markets
Switzerland
United Kingdom
Singapore
France
Denmark
Total AUM
G2 Pro – our wealth and investment platform fully developed internally in close collaboration with our business lines –allows managing more than #350 billion.
Serves also
Individual wealth owners
Multi-family offices
What clients say about Lombard Odier?
"I have seen more than a few solutions for consolidation over the years. What Lombard Odier provides is certainly one of the most competent and complete solutions I have seen."
CIO of an European MFO
Support & Services
Learn what support and services you can expect
Support options
Dedicated contact
In person on-site support
Pricing of support
Free support
Onboarding
40-60 days depending on the complexity
Customisation
Our personalized reporting platform called LO Smart offers customization capabilities. User can freely create and customize their reports according to their needs, including branded layouts and colours.
Bespoke development
LO Smart has been developed in close collaboration with our clients. Based on a Scrum-Agile approach, specific client requests can easily be integrated into our roadmap.
Added services
Data entry
Investment advice
Tax advice
Book keeping
FAQs
FAQs about Global Asset+ by Lombard Odier
What is Lombard Odier Global Asset+?
Global Asset+ offers a consolidated reporting solution.
What does Lombard Odier Global Asset+ do?
Lombard Odier Global Asset+ serves private wealth managers and family offices with its state-of-the-art consolidated financial reporting software featuring a unique combination of operational capabilities, investment expertise, and multi-currency banking service.
How does Global Asset+ work?
Lombard Odier Global Asset+, through its cutting-edge asset servicing capabilities, serves clients with increasingly diverse asset classes, allowing them to have complete control over their choice of managers. The platform also allows clients to include both securities held with Lombard Odier or deposited elsewhere, as well as alternative asset classes like private equity, hedge funds, real estate, vehicles, etc.
How much does Global Asset+ cost?
Lombard Odier Global Asset's + pricing structure is either AuM-based, custodian use-based, feature-based, or charged as a flat fee
Simple solutions for complex times.