Hemonto
As an independent reporting advisor, we deliver state-of-the-art consolidated financial reporting with data you can trust as a strong basis for your financial decisions.
We combine technology and people to deliver a complete reporting service. You get access to a professional reporting platform, and a permanent team ensures data accuracy. We tailor our services to meet your unique reporting needs without compromising on the integrity of the data. Altogether, you get a solution that empowers you to make the right financial decisions and execute your investment strategy.
What sets Hemonto apart?
"Owned by North East Family Office (NEFO), the biggest family offices in the Nordics, we have in-depth insights into the reporting needs of family offices."
Henning Gershof
Product
Get an overview of what this software does.
Main tasks
Accounting
Consolidated reporting
Governance
Portfolio management
Data aggregation
Risk management
Impact/ESG reporting
Data management
Bespoke reporting
Cost controlling
Benchmarking
Dataset as a service
Top features
Consolidated performance reporting
Accounting and administration
Consolidated risk and exposure reporting
Bespoke consolidated reporting
Private equity reporting
ESG screening
Costs analysis
Extended monitoring of costs and compliance
Dynamic customer portal with business-intelligence tools
Hemonto App
Assets supported
Bankable assets
Private equity
Real estate
Rare collectibles (e.g. luxury cars, boats, high-value jewelry)
Security
Azure multi-factor authentication
ISAE 3402-II control report can be forwarded on request
Integrations
Office 365 Security integration
Integration to ERP systems
Microsoft Power
BIExcel
Accuracy
Reconcile accounts and repositories on a daily and monthly basis
Enrich data with security prices, master data, and key figures from external sources such as Bloomberg, Refinitive, SIX, Morningstar and Scanrate
Perform a vast amount of daily quality controls on different metrics
Control security prices against custodian data
Errors and inconsistencies are handled in cooperation with custodian
Multi-currency
Multiple base currencies
Separate holding level p&l from currency p&/l based on transaction data
Cost structure
Custodian use based
Transaction use based
Feature based
Flat fee
Average cost p.a.
Individually set
Starting at $10k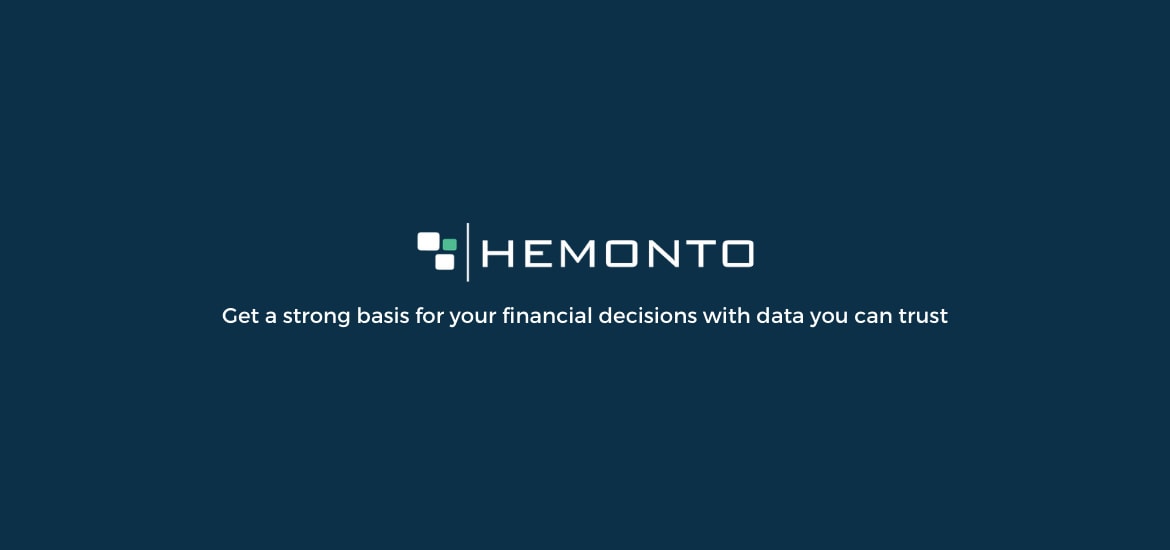 Key Company Info
Have a look at the company, clients and references to learn whether this is a match for you.
Ownership
Owned by management
Clients are also owners
Top 5 Markets
Denmark
Germany
Norway
Switzerland
United Kingdom
Focus
Single- and multi-family offices
Serves also
Individual wealth owners
Financial advisors
Banks
One of our FO-clients came to us as they were looking to upgrade their previous financial reporting solution. Through an interactional process, we defined the optimal solution design including a customized template for report building. Today, this family office has a completely tailored overview of all their investments as well as direct data access to build their own bespoke reports in our dynamic platform.
Request References
What Hemonto's clients say
"With Hemonto's solution we have an overview and make our decisions on a solid foundation."
Chief treasurer of trade union
Support & Services
Learn what support and services you can expect
Support options
General contact mail or phone
Dedicated contact
In person on site support
Pricing of support
Free support
Based on SLA
Customisation
All of services are customizable, e.g. customized reporting and dashboards, individualized access to reporting in app, customized data analysis, direct data access to build customized reports.
Bespoke development
Customized financial analytics server
Custom risk key figures used in trading and hedging
Customized control of accounts across custodians
Automation of data management processes and workflows
Added services
Data entry
Book keeping
Software development
Private equity reporting
Tailored reporting, accounting, cost controlling
FAQs
FAQs about Hemonto
Hemonto is a consolidated financial reporting software.
Hemonto is an independent reporting advisor that offers a state-of-the-art consolidated and customisable financial reporting platform for clients with over $10 million in assets under management.
Hemonto consolidates client reporting needs across all asset managers, portfolios, currency and asset classes, and presents that data through insightful reports on a customisable dashboard. Hemonto's services can be tailored according to the client's individual requirements. Hemonto also provides direct data access to users that can be used to create their own reports using the business intelligence tool.
How much does Hemonto cost?
Hemonto's pricing is structured per custodian use, per transaction use, per feature used, or as a flat fee. On average, Hemonto's starting fee is $10,0000 per annum.
Simple solutions for complex times.